What is a Chimney Crown?
The chimney crown (also referred to as the chimney wash) is the top element of a masonry chimney. It covers and seals the top of the chimney from the flue liner to the chimney edge. The crown should provide a downward slope that will direct the water from the flue to the edge of the crown.
(Source: www.csia.org/water_and_masonry.html)
We offer 2 solutions to chimney crown cracks/deterioration:
In the less severe cases we offer a rubberized mortar coating known as (PMP) Premier Mortar Preserve which is applied over top of the existing crown at approximately 1/8 inch thick. We make sure to properly wire brush the crown the prepare it for the application and then baste the crown to ensure proper cure time and a good adhesion to the existing material. This product is specifically designed and tested for application on masonry chimney crowns and the manufacture offers a 15 year warranty!
If portions of the crown have become loose or are missing sometimes this is not always the best solution. When this is the case we offer removal of the entire crown and rebuilding it with a proper slope to shed the water. Unlike any other chimney company in the industry 30 days after rebuilding the crown we often offer to apply a rubber coating to ensure the crown will not re crack with weathering/chimney use at no additional charge.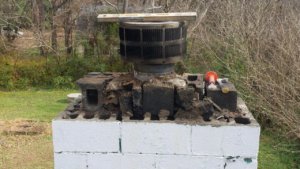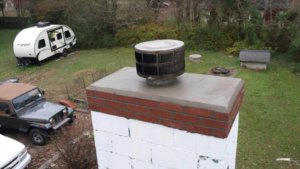 Keep your family and your home safe!
Call Today to Schedule Your Chimney Repair Service.
757-248-2126 (Hampton Roads and Peninsula)
804-404-8791 (Chester/Richmond)