What are chase covers?
A chase cover is a metal cover that fits over your chimney chase (on chimneys with wood, metal, or vinyl siding) to prevent water from entering the chimney. It's very important that the chase cover is installed properly so that water runs off the chase cover.
We offer 2 options to repair rust on chase top of prefabricated chimney chase covers:
The first option is for cases where there is rust on the cover however not enough to compromise the structural integrity. No holes can be present for this method of repair. We wire brush the exiting surface to remove as much rust from the surface as possible. After making the necessary preparations we apply a product called cold galvanizing compound to restore the galvanized metal as well as help prevent future rust/corrosion from returning. We also include re caulking the corners and storm collar with the repair.
The second method for repair is needed when the cover's structural integrity has been compromised. Under these circumstances the cover cannot be simply resurfaced. It must be replaced. We offer replacement in a variety of metals including stainless steel, galvanized, and copper. Our chase covers are manufactured by a local metal fabrication company and are made custom to fit your chimney. They include important features to protect from future deterioration such as cross sectional breaks in the metal to prevent water from sitting on the top as well as a drip edge to keep water running off the cover from running down the chase where it could potentially make it to the interior.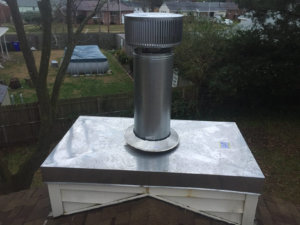 Keep your family and your home safe!
Call Today to Schedule Your Chimney Repair Service.
757-248-2126 (Hampton Roads and Peninsula)
804-404-8791 (Chester/Richmond)