After time gutters especially in areas with many trees around tend to get clogged up. Routine gutter cleaning can help keep this to a minimum. Not only will this cause for your gutters to not work properly, overflowing gutters can also cause for settlement around the house, poor drainage, or structural damage if left unattended for long periods of time. We offer competitive rates for cleaning at approximately $1-3 per linear foot so don't risk going up on a ladder yourself. Leave it to the professionals. You may be surprised at how reasonable the cost can be vs the risk/cost of not having your gutters taken care of.
Keep your family and your home safe!
Call Today to Schedule Your Gutter Cleaning Service.
757-248-2126 (Hampton Roads and Peninsula)
804-404-8791 (Chester/Richmond)
Routine gutter cleaning can help keep clogs to a minimum.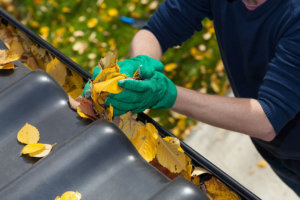 This, in turn, can prevent structural damage and other problems.